Shopping Cart
Your Cart is Empty
Thank you for your business!
You should be receiving an order confirmation from Paypal shortly.
Exit Shopping Cart
For review classes schedule please call:
Visit www.asmtnationaltest.com & our "webstore" for details and fees
Call or send text messages to (646)341-7558 & (718) 374-1338
ASMT is a National Agency (not a Trade School) that certifies Medical Technicians nationally (Medical Assistant, Phlebotomist, Laboratory Assistant, EKG Assistant, Pharmacy Technician, Operating Room Technician, Nurse Technician, Dialysis Technician, IV Technician and Dental Assistant) .
To make sure that all participants have a full and complete knowledge of their chosen course. They will be tested by written examination on the general aspect of the course. The association is giving a yearly Continuing Education, to update the participants of new techniques, new equipments and procedures every year.
ASMT is an organization that gives health care professionals a sense of professionalism which help them feel more confident on their duties and that feeling reflects back on the lab or their place of work.
The society stresses that professionalism begins with the certification process. The role of the health care professionals is changing dramatically and ASMT strives to provide confidence and compassion, as well as the sense of belonging and fellowship for these members of the health care staff.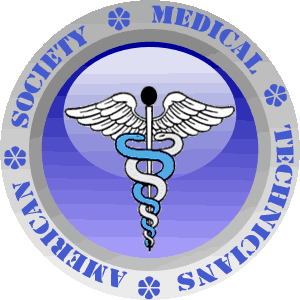 /